No. 1 for Appliance Repairs Kildare
Appliance Repairs Kildare, Carlow, Laois
Welcome to Appliancerepairs.ie – Your first choice for cost effective repairs to your electrical home appliances. We are a legitimate and professional repair business based in County Kildare. With our own full time engineer on the road every day servicing all of the County. These are just a few of the reasons our customers make us their first choice for appliance repairs Kildare!
 The engineer will carry out repairs to your cooker, washing machine, tumble dryer, hob, oven, and electric shower. As a professional business, our aim is to get to your home as soon as we can to get your appliance repaired, but most importantly, all work is carried out by a reputable, fully qualified technician and is fully guaranteed.
Most appliances are repaired for between €60 and €120 - First time!
Our vans carry a full stock of common spare parts and aim to get your appliance fixed there and then.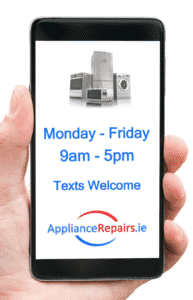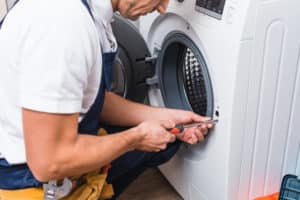 Contact us or Request a call back
Have you got a broken appliance?
People don't realise how much they rely on their kitchen appliances until they break down and usually at the worst possible time! Covering most of the Kildare / Carlow / Laois areas. Just give us a call, text or send us a quick email using our online form to arrange a call out and we will have your appliance repaired as soon as possible and in most cases over 50% cheaper than manufacturers charges. With over 20 years electrical and mechanical experience in many different areas, You can trust our competent and fully trained engineer to have your appliance repaired as soon as possible.
I have many rental properties around Kildare and have been using Appliancerepairs.ie for 5 years now – Lorcan provides a very fast and efficient service every time without fail. The way it should be. Highly recommended.
My washing machine stopped working on Sunday so I called these guys on Monday morning and they had it repaired by lunchtime. Very quick to respond and it worked out cheaper than the manufacturer's call out charge! Can't ask for better than that!
Googled for oven repairer and came across this company, liked the upfront approach, name and number readily available, phoned and text, reply within 10 mins, immediate quote ,fixed and professional receipt ,so quick I was almost reeling.Brilliant service.

Ruby Johnston - Newbridge
I got fed up after waiting 2 weeks on a different repairman to fix my washing machine, so I called appliancerepairs.ie and my washing machine was fixed THAT DAY!! Absolutely delighted, will be recommending to everyone. A+++
Domestic Appliance Repair
Got a problem with one of your kitchen appliances? Think it can be repaired? It's always worth checking to see if we can repair it, so give us a call to arrange for one of our highly skilled and fully trained engineers to visit your home and fix the problem. You can trust us to fix your faulty appliance quickly and professionally.
Appliance Repairs Kildare
If you're having problems with your washing machine, tumble dryer, oven, hob or electric shower – just give us a call and a friendly service technician will get to you as soon as possible. Covering most of Kildare including Athy, Kilcullen, Celbridge, Maynooth, Leixlip, Kill, Johnstown, Naas, Newbridge and much more.
Problems with your washing machine, tumble dryer, oven, hob and shower can be inconvenient and messy. Covering Newbridge and surrounding areas – Athgarvan, Milltown, Kilmeague and more. To get your appliance repaired quickly, just give us a call and we will go to your home to get the repair done asap! 
Naas is one of our busiest areas in Kildare. At least one of our engineers carry our repairs in the area on a daily basis.  Stretching to all surrounding areas including Newbridge, Kilmeague, Rathangan, Kill, Johnstown and more. So if you have a problem with an appliance, just call us and we will get to you to provide an expert diagnosis and repair it fast!
Just some of the brands we repair
Domestic Appliance repairs - Common problems and faults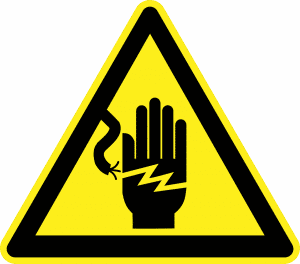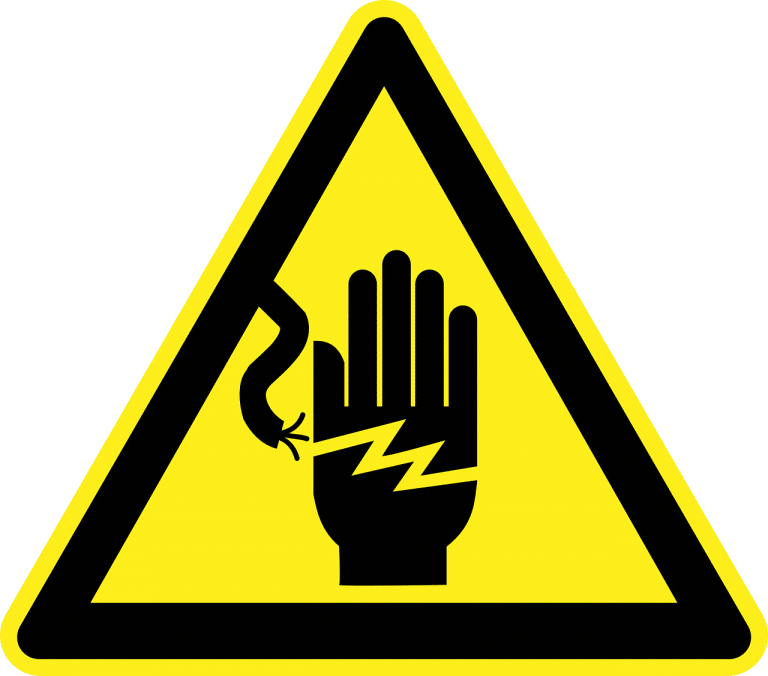 Safe work practice on appliances repaired.
When getting your appliances repaired, regardless of which company or business you use, it's worth checking that your repairman is competent, qualified and certified – especially when it comes to electric appliances and showers. He will also need to be fully insured when carrying out repair work in your home as this will give you, the home owner, peace of mind.
Getting your appliances and showers repaired by a non qualified person for a few quid cheaper may seem like a good idea at the time. This could easily end up costing you far more in the long run and may also be dangerous for any person using the appliance after. Our engineers are competent and trained in appliance repairs so this ensures that the work is completed SAFELY and to the industry standard. All our engineers have many years experience in the repair of electro-mechanical equipment. Call now for appliance repairs Kildare and surrounding areas.